About
wecare.kiwi is here for people living on their own or caring for others to help you get through Covid-19.
Backed by national charities Carers NZ and IHC, wecare.kiwi offers a helping hand, a listening ear, and practical support – if you need help of any kind, we'll do our best to assist!
We have revived our We Care support and campaigning brand, established in 2008, bring community networks together to support anyone of any age.
"We've been in regular contact with a Mum whose two children have disabilities. She is doing a great job getting everyone's basic needs met and keeping them happy, but says our check-ins to see how she is doing has made a difference for her. Sometimes we all need to know that someone cares." wecare.kiwi volunteer, Southland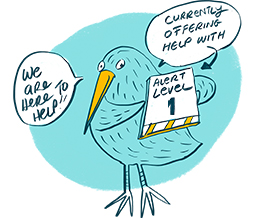 Register with wecare.kiwi for:
Phone and email check-ins (regularly, or just sometimes)
Information and support if you are caring for a friend or family member
Questions about the help you are getting, or if you are struggling to cope
Support if you feel lonely or would like advice
Escalation to the right parties if your services are disrupted and you need more assistance
Help with shopping or deliveries
Accessing support for Covid-19 queries
Any help we can provide to people who are vulnerable, living on their own, or caring for others
We will give any support we can, of any kind, provided by trained and Police vetted volunteers across NZ
Things we are not:
wecare.kiwi is not a replacement for 'hands on' cleaning and personal care services
We cannot visit in person, but we can check in by phone and email
We are not an emergency service or a health advisory service: in emergencies always call 111; if you have a Covid-19 or health query, always call Healthline,
---
Questions about wecare.kiwi or want to join our network
to help others through COVID-19?
Phone 0800 777 797 during business hours or email help@wecare.kiwi