Essential Supplies
We are going to make it easier to buy essential supplies for home delivery.
If you want a hassle-free way to get food and household essentials delivered for yourself or someone you care about, or to donate these to vulnerable people, express interest by completing our short form below!
CARING MUMS AND GRANDMOTHERS
If you or another Mum or Grandma you know care for someone who is unwell, frail, or has a chronic condition or disability, nominate them for a wecare.kiwi $40 gift card from The Warehouse. We have 250 to give away for Mother's Day! To request a card for yourself or a deserving woman in your life who meets our eligibility criteria please complete the short form below. One per family please. Life has been a bit stressful, we know – our gift cards recognise the women who have been going the extra mile for vulnerable people during Covid-19. All recipients will receive a confirming email even if the card itself may not arrive until shipping and logistics are resolved. We hope the Mums and grandmothers who receive these cards buy themselves a favourite treat – the cards can be used online or in-store.
If you've receive a previous wecare.kiwi gift please hold back so others can receive one – thanks!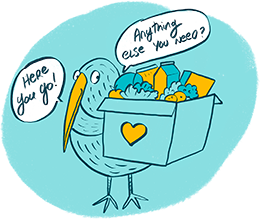 ---
Sorry. This form is no longer available.
---
---